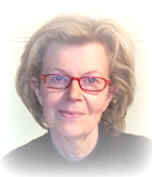 Welcome to
Numerology, Chakra work,
Colour Psychology & Colour Healing,
Spirituality in Personal Development
Lifelights has existed since 1982 but I have been working with an esoterical approach since the late sixties. I work as a numerologist, teacher and writer and I nowadays (after more than 60 years in the capital Stockholm) live in a small village in the woods of Wärmland, Sweden.
We all live in a more open mental climate in the society today and there is often an awareness of a personal "inner Quest". We explore unknown sides within ourselves and try to understand our minds better.
I try to be of assistance in that creative exploration. It takes openness, trust, courage and knowledge not to get caught within new limitations. We need to know our motivations, who we want to be, and also who we actually are. A thorough exploration of this might lead to deeper inner security, better self-respect, greater respect for others and more love to share. When it does, we are a little bit closer to "Paradise".
In my work I´ve gone deep into the study of symbols and the dimensions we call levels of consciousness. I use archetypical structures from the Indian Chakra system, the Tree of Life of the Jewish Kabbalah and number- form- and colour symbols. Did you know that C. G. Jung called numbers "the matrix of archetypes"?
From the middle of the seventies I´ve been working with colour therapy and studying esoteric schools. During the eighties it became all numerology. I was writing books and travelling all over Sweden giving lectures. For the last decades I have been focused on teaching, educating numerologists and therapists who have had an interest in subtle energies and spiritual work. I have also been studying many English mediums and healers to see and understand how they use their energies in their work.
Today I still lecture and give courses in these fields. I also have the privilege of cooperating with wonderful therapists who contribute with a lot of loving care and experience.
Up